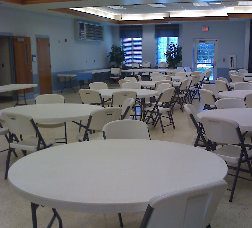 Cathedral Square (our beautiful parish hall) is available for rentals. The main floor can be used whole or divided with partitions for smaller groups. The kitchen may also be available.
Please contact the office manager at (308) 384-2523 ext. 220 or office@stmarysgi.com to reserve a space. Events must be scheduled at least two (2) weeks in advance.
Proof of insurance is required. Your insurance carrier may already cover the event. Insurance is also available through Catholic Mutual; please call the parish office for details.
Note: Alcohol is not allowed on the property.
See our Rental Guide (PDF) for more details.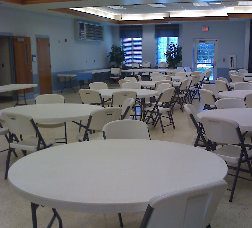 St. Mary's Cathedral Square
Facility Price Chart & Guide
Fees Effective: April 6, 2021
Location
Fees
Maximum Capacity
DinnerStyle
Classroom Style
Board Style
Theatre Style
Multi-Purpose Room(All Sections) Insurance for all rentals

$400
200
200
300
West End Room & Kitchen
$200
90
90
100
West End/Middle Rooms & Kitchen
$300
150
150
200
West/Middle Room Only
$100
150
150
200
Middle Room Only
$75
60
60
100
East Room
$75
60
60
100
Deposit (Refundable) *
$100
Event Supervision*Minimum – 4 hours
$20.00
hour
* Event Supervision St. Mary's Cathedral will provide a representative to assist the event coordinator. They will be on premises for the length of the event and be available to answer questions and handle special requests.
** Insurance: Fees include event insurance of $95.00 from Catholic Mutual Insurance. If no insurance coverage can be provided. Set-up and breakdown. Space includes kitchen and entire floor.