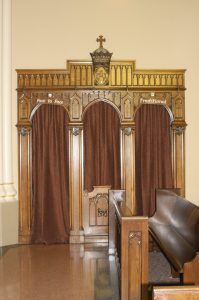 The Sacrament of Reconciliation (Confession) is offered throughout the week and by appointment with the priest.
Times are:
Individual Confessions:

Wed-Fri: 4:45pm-5:10pm
Saturday: 11 am-Noon (always and without exception)
Other times, as listed

Communal Penance Services:

Wednesday of Holy Week: 7 pm
Wednesday before Christmas: 7 pm
The normal time of preparation for one's first Confession is immediately before one's first Communion (age 7, or 2nd Grade). Adults or adolescent children who have not yet made their first Confession and Communion should contact a priest directly for preparation.

The Catholic Church requires All Catholics to confess their mortal (serious) sins at least once per year. Regular confession and the confession of venial (less than serious) sins are highly encouraged for spiritual growth.

Are you wondering how to go to confession? Here is how in English and in Spanish. Here is one for children. Here are also some tips on making a good confession.