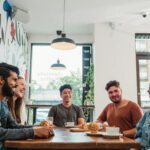 The Alpha Course
Do you know someone who has questions about faith and the meaning of life? Why not invite them to Alpha? ⁠
Alpha is a great place to meet new people and together explore the big questions of life.
What is Alpha?
Alpha is a series of interactive sessions exploring the Christian faith. Alpha runs all around the world in cafés, churches, universities, homes, bars—you name it. No two Alphas look the same, but they have three key things in common: food, a talk, and good conversation.
Who is Alpha for?
Alpha is designed primarily for those with no experience of the Church, which is why Alpha keeps it simple. It also means that anyone can benefit from Alpha because no assumptions are made about a person's level of knowledge, understanding, or engagement with Christianity.
The Alpha Course
To be announced later
St. Mary's Cathedral Parish Hall
To save a spot for the next one, email Judy at parishadmin@stmarysgi.com
For more information, contact Judy Priess at 308-384-2523 x214 parishadmin@stmarysgi.com or Sr.Jesusmerling Poche at 308-384-2523 x212 hispanicministry@stmarysgi.com.
Please note: This session is for ages 15 and older. There will be no children's program or childcare.
---
Alpha is free to attend. Registration is encouraged but not required.
Alpha is a relaxed, judgment-free environment.
No pressure. No follow-up.
If you have attended Alpha previously and wish to return, we encourage you to join the team or invite someone new and accompany them along their Alpha journey.